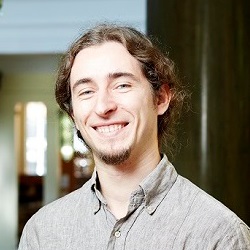 Simon is an award-winning specialist in online education and learning technology with eight years of experience working at the universities of St Andrews, Leeds, and Edinburgh. He has been championing innovative approaches to higher education, using digital solutions to improve and transform traditional ways of teaching. His core strengths lie in course design and producing learning resources, with his creative approach and academic experience leading to the creation of most engaging student experiences.
As a practising academic, Simon has first-hand experience of both class and online teaching, as well as a deep understanding or research priorities and various challenges faced by modern lecturers and teachers. This offers you the unique opportunity to work with a person who understands the day-to-day priorities and practicalities of learning and teaching, and can communicate effectively with academic colleagues to create bespoke solutions that suit their specific needs.
Simon's experience includes work on four separate online Masters programs, a number of blended learning campus courses, as well as the creation and management of ten Massive Open Online Courses (MOOCs), including the most popular MOOC of all time, Introduction to Philosophy.